AArmored Warfare is a modern tank based MMO action game where players fight in large PvE and PvP battles; this is a team based game and it contains 5 specialized classes of tanks to select from. Each vehicle can have their appearance customized and can be upgraded in 5 different areas that impact battle. The PvE mode allows players to work together to complete an objective and to defeat NPC tanks, each mission in this mode is randomly selected. In this game, PvP is strategic and features a range of objectives that need to be completed in order to win the match.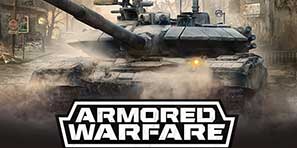 Graphics 
Social/Community 
Armored Warfare Features
5 Specialized Classes – Each class in the game is unique and contains many tanks to select from.
PvE – Work with a team to complete objectives and defeat the NPC.
Customization – Upgrade into different stats to create different play-styles for each tank.
PvP – Engage in large team-based fights to complete objectives and destroy the other team.
Pros
Has both PvE and PvP.
Good customization.
Various game-modes.
Not pay to win.
Cons
Bad tutorial.
Poor class balance.
Lacks competitive end-game content.