Similar to Naruto Online creators, comes a game adaptation from the infamous second-placed anime Bleach. Shinigamis centre the universe, they work as Death Reapers having super cool weapons by their side, usually a bad-ass sword. Bleach Online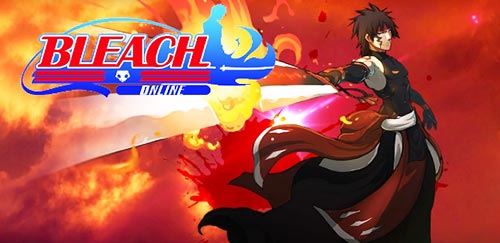 Graphics 
Social/Community 
Gameplay and story
The game focuses on turn-based RPG bringing back an old school arcade vibes. But with the exception of allowing your character progress. Clear and easy to understand, each character in not limited to any weapon. Honestly that is pretty cool to live out your potential as a Shinigami. Much better to imagine if you had died in real life.
Your story starts by being rescued by Commander Yamamoto himself, strongest, wisest and the best Shinigami in history. You sleep for 1000 years and then rise to the occasion as you assist Ichigo and his companions.
Be a part of the story and destroy Aizen's plan to cause mayhem to the world. Fight a neverending war between Shinigami and Hollows to protect Humans and their way of life. Have a team of handful companions to fight along side you. Meet notable characters of the anime, loyal to the manga and shounen series.
Quests are unique and the auto-pating system is available. We know Eastern MMOs love their auto-pathing system. As you press the auto-system, you character makes its way to the NPC with style. I gotta say, its not as bad as it portrays itself to be. That way, you can save your energy for the next big fight that's about to come
Graphics and visuals
The game looks amazing and it is astounding. Each character looks similar to the anime, thus creating greater immersion into the manga and your character.
The skills and combat effects are also flashy and attractive. While most people do not enjoy it, but it is according to the manga. The over compensation flashy moves also makes sure that you'll feel more like in the universe of Bleach.
Equipment and upgrades
Unlike a typical MMO where you get a new equipment and upgrade it, you rely on spirit stones. You get your fixed equipment, upgrade it continuously with different spirit stones. Each spirit stones has its own attributes and strengths, contributing to a weapon that allows you to combat any element. Get this, you also get to upgrade your partner's equipment to make them equally strong with you.
Strength stone: physical attacks and defense
Agility: speed and shorter turn change
Wisdom: strategic attack, defense and healing factors
Stamina: Focuses solely on health points to hold large amounts of damage
Hit: Ensures opponents avoid from dodging
Dodge: No explanation needed
Critical: Allows greater damage upon critical chances
Block: Blocks attack instead of receiving it all
Fury: Increase fury max points