A classic return of Chinese MMORPG. Conquer Online has been around for quite some time now and whether or not you should check the game out is up to you. If you want some opinions, go ahead and read below.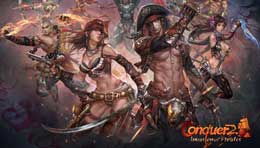 Graphics 
Social/Community 
Visuals, graphics and other features.
The game is entirely a mix between 2D and 3D giving off a Diablo-like graphics. Similarly, the game's camera is not customizable as it is set to an isometric point of view, amazingly popular in most Asian MMORPGs. Is it inspiring? No. Is it exciting? No. Is it bad? Well, no either. If you're used to the graphics, you can do well with this game.
As for combat skills, it isn't as bad as you think it is. It is not the generic stand and wave your weapons about. Each hit comes along with other moves such as jumping, flipping and rotating swings. Skill effects are also extravagant and with flashy moves. This keeps the game more interesting in comparison to the boring chat systems and aside from quests.
On the other hand, the game monsters are a variety in this game. Ranging from different sizes; from pixies to just monstrous ad mystical creatures.
Classes
The job or specialization are something to look out for as well. As of 2016, there are 10 different classes and playstyle.
Dragon Warrior: Yeah, not Po from Kung Fu Warrior but more Bruce Lee-like. The class is specializing on quick attacks and maintaining your composure in any difficult fight.
Assassin: Cool, quick with a dark personal background. Work in your own brand of justice and be the hero that society truly needs. Dispose of those regardless of ethics.
Pirate: Sweet rapiers and pistols, living life with freedom and rebelliously. In search of treasure, pirates gain more gold than most do due to their skiving abilities.
Monk/Saints: Years of training has set you out on the world to face obstacles and those who defy the laws of the universe and God's will. With your adept martial art training, defend yourself against violent people.
Ninja: Mysterious and flashy skills. Take out your katanas and stab your enemies from the shadows. Plus, you get to throw shuriken like a boss.
Archers: Armed with only a bow and arrow; they are able to pin point their enemy near or far. Shoot them between the eyes and instantly kill them. Archers are also well endowed with their nature skills allowing them to survive in any environment
Fire Taoist: Not your ordinary Taoist, they are very good at bending and shaping fiery skills. While they excel is combustive skills, they prefer backswords as a sign of mercy before incinerating them
Water Taoist: Similar to Taoist, they instead control water. They use water to heal, cure diseases and bring back comrades from their downfall.
Warrior: Greatsword, maces, axe and shields. They are the most basic but also the most versatile class out of all.
Trojan: Dual wielding warriors that charges into the heart of war. Due to their enormous tough training, they feel no pain and able to constantly slash apart their enemies while being mobbed by hundreds, maybe thousands of enemies.
Summary
Don't wait, just play! Experience your inner Asian side, not everything is mathematics and brains.