Developed by BigPoint, Dark Orbit has been around for a decade, since 2006. Since its release, the game has registered almost 90 million players worldwide. Despite the fact it did not make major news, it is still pretty successful on its own. Set out on a space exploration and circle the dark corners of the universe that is Dark Orbit. Meet creatures of another planet, unknown enemies and riches beyond your imagination.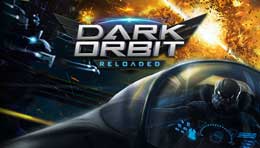 Graphics 
Social/Community 
Gameplay and concept
Dark Orbit features a non-targeting combat system where players circle around their enemy, dodging attacks and firing lasers to demolish them. While players have the option to play the game entirely on player-versus-environment (PvE), the main attraction is of course, the player-versus-player (PVP). It is where you, as the player, get to show off all your hardwork and endeavours on achieving your stats and ship. Of course, there are also players who buy their own ships, but more on that later.
Players join a single faction, out of three and battle their way out on the ranks to dominate the universe. This is the constantly occurring world event. Meanwhile, for fun amongst your teammates or anonymous players; take your pick in the jackpot arena where the winner gains a large jackpot for their fortuitous and brave victory. Gather your crew and go on a team death match to show whose side is better. Take on the invasion mode, much like survival match; the longer you stay, the greater the rewards. There is also the capture feature and much more.
Not noob-friendly, PVP-oriented and bullies lurking behind meteorites.
While the game was pretty popular back in the days, this would also prompt veteran players to be more violent or dominant towards new players. It is a kill or be killed phenomenon. As most players would not only like to show off their new ships but also show them who is boss around here.
Many players suffer from being "one-shotted" or bullied by pro players the moment they step foot on an open-PVP area. Of course, there are those who justify their actions by shooting only those new players who pay by store, in order to get ahead of everyone else. While developers insisted that players have the freedom to do whatever they want, this is certainly unacceptable.
Broken Auction system & pay-to-win system.
The auction house or much like a market place is certainly flawed in every sense. The game was supposedly to display a bidding feature whereby players place a deposit to bid on an item of interest. However, if the player loses the bid, the money is not returned to them. That's a scam, ain't it?
As expected of a long running game, maintaining it and making profits is a tough thing. So as usual, the game usually favours the veteran players and long-time committed ones to gain more out of the cash shop. If they are able to pay more for the content and upgrades, they would certainly play more of the game than quit and finding a new game.
Summary
All in all, it's a pretty decent game, all packed into a single browser. It gives off the old school arcade vibe with a mix of MMO in it. My advice is get a bunch of friends to play the game, and you won't have any trouble. In fact, it is much more fun!