Trigger warning, this game is some of the worst MMO made so far in the history's industries. While the game merely used the term Dragon Born as a strategic clickbait title, it is not even close, barely at the tip of Skyrim itself. But enough on the Elder Scrolls, let us move on to this game.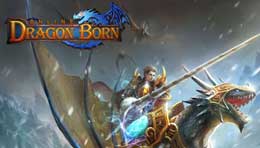 Graphics 
Social/Community 
Character creation and customization
Right from the start, you can tell it is a bad game. DO consist of 4 main classes; the priest, the mage, the ranger and the soldier. There are no special customization or basic ones either to allow your character appeal differently as compared to others. But of course, you may switch between female and male. But frankly speaking, there is not much visual difference between them considering the game is made with such low graphics and horrendous effort.
Graphics, visuals and gameplay.
Granted that the game was made with a low budget cost and minimalist effort, the least they could to is fix the bugs and servers. The game runs on such low requirements it still has lag issues, connection problems and so much more. Honestly speaking, what are the game developers doing at this point? The transition between areas allows players to see pixels developing, that says something.
In terms of gameplay, the game runs on a tab-targeting system. That is alright but the visuals again are just stunningly poor for a game existing after 2010 with the latest technology and graphic systems. The game enters an auto-pilot mode triggering the character to farm in that area for possibly hours if necessary. That really bums out the whole concept of the game that is to play. The auto-pathing feature is decent but the bot-fight system is just plain ridiculous.
The skills are decent. But the idea that you can never learn a new skill that is considered an upgrade is just darn harsh. Dragon Born implements a system where you allocate points to level up each skill increasing the firepower and effects, but no more and no less. That's going to be be pretty bland considering people would like to progress and gain level cap no less.
Not challenging, more pay-to-win purposes
The questing appears to be alright, involves interacting, collecting and killing monsters. However, the experience points at the end of each quest is just enormous that you're never left behind and required to grind. Instead, your character would always be above the quests levels and monster kill quest becomes much easier. Most of the time, you're just flat out, one-shotting each monster with your character.
The cash shop features more backpack spaces, character upgrades and little bits of cosmetics to make you look more decent in-game. Other than that, everything else is just not worth buying. In fact the game is just not worth your time unless you're into botting systems, auto-pilot fighting and living off your fake fantasy games by paying more money.
Summary
Honestly, there is not much to say about this game. Well there is a lot of negativity and hate that I have spent hours clicking and watching my character do all the work. But seriously, nothing good has come out of this game and my advice is to avoid it. But hey, if you're into this kind of games, this is just my opinion. Have fun, cheers!