You want to know what is better than the Diablo series? An MMO version of it, that's right! While we know there are many MMOs trying to recreate and credit the ever so successful RPG known as Diablo, Drakensang Online could probably one of the most significant one. But enough about Diablo, lets kick in to this game.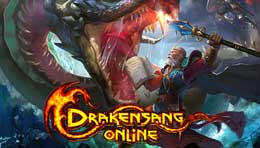 Graphics 
Social/Community 
Gameplay and interface features
For those who has never played Diablo, you have the standard balls are each side. Orbs, balls, whatever you call it represents your health points and what not. In the middle, you have your slots where you can equip skills or items for faster usage.
A cross over between 2D and 3D styles creating an isometric perspective. Players have no control in camera rotation and merely limited to zooming in and out. Thankfully, the game was design in such a way to not disrupt gameplay especially tall structures that may cause movement inability. While the game is in majority, an open world there are instances where it is instance base requiring some minor loading. But not too much as to cause a disturbance in immersing yourself in the game.
The art style is beautiful and suitable to the game's theme. Thankfully, the game system requirements are not that demanding, so crank up your graphics and systems to enjoy the game to the fullest. Explore the barren lands of the undead, the beautiful cities flourishing in green and the eerie jungles to the cold ice mountains.
Characters and playstyle
Dragonknight : Your standard hack-and-slash character that is just a badass wielding sword, axe and such. Wield a large weapon, bigger than your own torso and beat the living crap out of your enemies. Wear shiny and impenetrable armour that shields you from your enemies. Look down and smirk upon those who even try to defy you. You have the option of going for a tanky build for raids and parties or just an insane damage-dealer, knocking down your foes.
Rangers : Not limited to their bows, the rangers specialize in close combat as well having blade bows or daggers. They utilize powerful ranged attacks to deal with their foes, weaken them or even obliterate them under a rain of arrows. They are the major DPS class focusing on debuffs, attack speed or large burst damage.
Steam mechanicus : Futuristic dwarf with buff bodies and beard goals. Dwarves in any lore are known as the most gifted in craftsmen of any vocation. Their specialty is creating great firepower and to equip heavy weapons that no other can. Blast your opponent away with cannoneers, rockets and heavy artillery with stunning visuals. Watch them burst into smithereens or catch fire as they run around.
Spellweaver: Not just your typical mage class, but a ruler and wield of mana. Able to conjure any spell with utmost control and majesty. Ignite your flames and burn down enemies like a crashing meteorite. Call upon the North and South poles, to free your enemies ice cold and pierce them. Make them shiver as they hear your name. Call upon the Gods to send your lightning with sharp strength like no other, stun your enemies and disintegrate them.
Make a party, join a guild, go around interacting with other players. There is just so much to do besides bashing in the skulls of hideous monsters.
Role-playing and PVP
A game like this with a dark art style requires lot of role-playing to make the game feel more alive. Make a party, join a guild, go around interacting with other players. There is just so much to do besides bashing in the skulls of hideous monsters.
Join the arena, challenge friends and foes to test your skills. Top the ranks and gain rewards beyond measure and reach stardom amongst other player. Make them squeal and scream upon hearing your name. PVP is also not limited to one-on-one but also group battles. Gather your mates and go show them how teamwork and cooperation gameplay is like. Do it for the boys!