It is no surprise that side scrolling MMOs were a hit back in early 2000s thanks to the trendy and cute Maplestory franchise. Elsword is one of the many descendants to the infamous 2D side-scrollers in MMO history. So what makes it so unique and successful, enough to stand its ground against other games like La Tale, Wonderking, etc?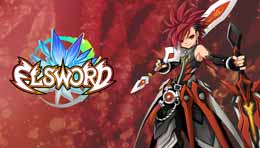 Graphics 
Social/Community 
Unique visual appeal and theme: A comic adaptation
If there is one thing unique about Elsword is the addition of comics. Background story, cutscenes and interactions between NPCs seems more comical and engaging suitable for both adults and children of all ages. As I am sure you've noticed, Elsword also consist of 3D elements especially in maps where you walk AROUND it, literally. While it is still categorized as a side-scrolling MMORPG, but to place it under the conventional 2D MMO is definitely not it. Aside from that, casting of special skills or combos, triggers certain cutscenes that were made to seem 3D with a bit of anime/comic style which we do not see nowadays. In short, the comical feel to it is astounding and highly suitable to the game. So, job well done!
Classes and customization
Now, MMORPGs nowadays are expected to have a lot of classes, or at least, job specialization that would pull you into the game. Do no fret because Elsword paints a picture on it all.
In addition to having your standard 11 classes, each play style is different to better accommodate the player themselves and what sort of influence they have on the environment. Note that each class is fairly balanced and solely requires the skill and reaction time of the players themselves, making PVP all the more exciting. While there is a class named Elsword, the typical main character swordsman of any comic, other classes do have their own backstory or class quests. So do not feel like you're an outcast, just take it as if your character hailed an underdog story or a spin-off series. Trust me, you will not feel like you're the side character.
One thing about this game that really bugs me is the character customization. Each class is gender-locked and you clearly have no way around it. Customization is EXTREMELY LIMITED, so much that the developers rather have you pay real money to make your character seem more unique compared to others. Well, gee no thank you. If you're someone who emphasizes the term, "look good, play good", then go ahead and spend some money to flaunt yourselves.
Gameplay, combat and roleplaying.
Elsword combat system functions on a combo system, requiring you to time yourself and dish out a set of movements or skills to allow maximum damage. It's not all about dealing the most damage, but disabling, knocking out and also assuring that your enemies have no chance to counteract. It is all strategy and skill. Of course, if you're just looking to blast, slice apart and demolish your enemies then that is also applicable to this game. Who knows, you might be good at it?
Summary
As far as playing the game for a few hours, I've come to realize that this game is not essentially living up to the term of MMORPG but merely RPG itself. With the right set of skills or movements and disregarding armour, you can literally solo any boss fights or dungeon. That is why I feel that this game is a competition between other players, interaction, joining parties and role-playing is not heavily implemented into it. Role-playing is already fixed into each character by their story and cutscenes.