WoW's Patch 8.2 Rise of Azshara is now live and in-game for Battle for Azeroth players. This is the largest patch update to World of Warcraft's BFA expansion, and brings with it a plethora of new content, features and more. If you're a new player or a returning player looking for information on what exactly is in this update, check out our compilation down below.
New Zone: Nazjatar
Nazjatar is a dangerous and beautiful place, filled with coral forests and unfathomable deep-sea creatures skittering through passageways and clinging to rockfaces. Secrets that have remained submerged for millennia are now exposed to the surface world, including the ancient ruins of Zin-Azshari, the once-glorious capital of the kaldorei. Further in the depths, the beautiful and terrible city of the naga—and the palace of the Queen of Tides herself—awaits. Before you can begin your journey to Nazjatar, you'll need to reach level 120 and complete the quest Unlocking the World, which grants access to World Quests in Battle for Azeroth. When Rise of Azshara arrives, you'll receive a summons from either Genn Greymane or Nathanos Blightcaller, setting in motion the events that will lead you to Nazjatar.
New Zone: Mechagon
Your adventure to Mechagon begins after establishing your hub in Nazjatar and powering up your Heart of Azeroth. Soon after, you will receive a summons from one of the most renowned tinkerers of Azeroth—Gazlowe for the Horde, and Tinkmaster Overspark for the Alliance—directing you to a newly opened vault in Tiragarde Sound. Inside, you will find technology that has never been seen on Azeroth, and the location of the fabled island. As you explore Mechagon, you'll be able to contribute resources to Construction Projects that create a variety of powerful constructs. These projects provide a variety of bonuses to give you and your fellow adventurers an edge on the island, including experimental equipment weapons and equipement to wield while on the island, flame turrets that help clear an area of foes, a drill rig that can uncover a cave full of treasures (and maybe uncover something best left uncovered), and more.
Heart of Azeroth Updates
In Rise of Azshara players will find a new system for the Heart of Azeroth that will provide additional power customization options: Essences. You'll collect these Essences by taking part in a variety of content, and infuse them into the Heart of Azeroth using the new Heart Forge in Silithus, giving you access to new abilities and bonuses. The Heart Forge lets players infuse their Heart of Azeroth with Essences to grant new combat-related powers. Once you've collected a new Essence—obtained by participating in a wide variety of content—you'll head to the Heart Forge to infuse your Heart of Azeroth with it, "learning" the Essence and permanently adding it to your collection. Much like Talents, once you've learned an Essence, you'll be able to apply it or swap it out through a new Heart of Azeroth interface within rest areas, cities, or when using items such as the Tome of Quiet Mind. Each Essence has both Major (generally active) and Minor (passive) abilities. Upon completing the initial quest from Magni, you'll open a single Major slot in the Heart of Azeroth. Placing an Essence in the Major slot grants you that Essence's Major active ability, which is added to your Spellbook. You'll also gain the benefit of any Minor passive abilities from the Essence.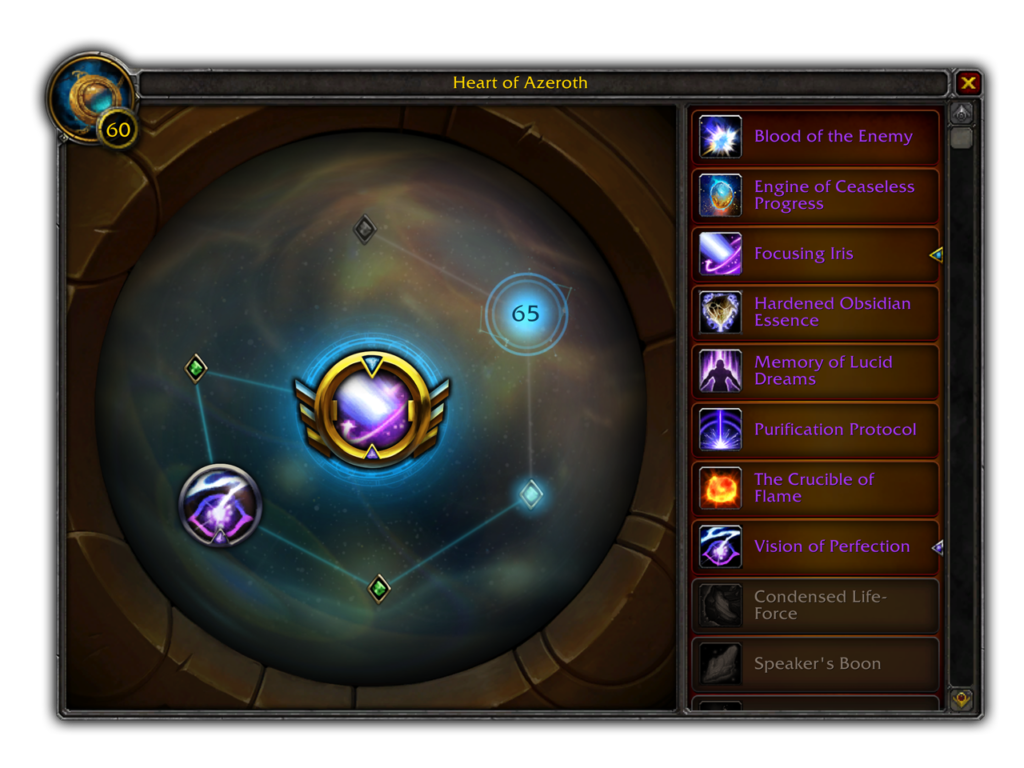 Benthic Gear
8.2 is  introducing a new type of equipment called Benthic gear, which you'll earn and collect while adventuring in the naga domain of Nazjatar.As you explore Nazjatar, you'll collect Prismatic Manapearls—soulbound currency you can spend to purchase Benthic tokens and upgrades. These bind-to-account tokens can be used to gain a piece of upgradable Benthic gear specific to your armor type (cloth, leather, mail, plate), starting at item level 385. With enough time and effort, players can dedicate their hard-earned Manapearls to upgrade pieces to ilvl 425, just shy of Heroic-level raid gear (ilvl 430).
Mount Equipment System
The Mount Equipment you earn, craft, and purchase in Rise of Azshara will make it so your choice of mount can be steered by your heart—not what's most efficient. These new Mount Equipment pieces can be applied to your mounts within the mount collection tab; they apply to most of your mounts, and are available for anyone to use regardless of which professions they have (though note that they don't work in Battlegrounds or Arenas).