FForge of Empires is a MMORTS that sends the player on a journey through the early ages of civilization; the player is placed in control of a small Stone Age village and must take it through various eras with the aim of creating a powerful empire. This RTS has another feature that makes it stand out from the other games in the genre; the game has a single player campaign.
Graphics 
Social/Community 
Every age in the campaign has specific goal to work towards so that the player can progress further into the game; the player must fill the era requirements to move on to the next one. More of the game will be unlocked as the game progresses and this acts as a long tutorial for the game which is perfect for players who are new to the RTS genre. During the later eras of the game, there will be provinces available which can be conquered.
Research is available later in the game and many items in the game must be research before they can be built; there are also requirements for being able to research new things for the city, these are usually resource or gold based. Each era also has a research requirement that needs to be met before the game will progress any further.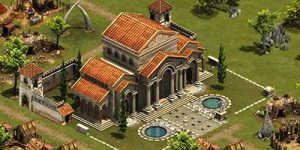 As expected from a RTS game; all actions use wait timers and resources are gained automatically from certain buildings. Resources can also be gained by defeating a neighboring province or other player cities. When conquering a province the player needs to defeat each segment and take the city that controls it.
The PvP in Forge of Empires is much more interactive then most other RTS games; combat is turn-based and uses a hexagon grid system. Each unit type in the game has different statistics and while every era introduces new units, there are early game units that can counter them. This allows for strategic and engaging combat between players. When a city is successfully attacked the player will be able to loot one of the buildings in it for whatever it contained.
Forge of Empires is a unique game in a crowded genre and spreading the game across several times in human civilization makes this game stand out in the crowd; like with all RTS games, there is an element of pay-to-win as there is an option to skip timers. The PvP is very engaging however it is very limited overall.