HHex: Shards of Fate is a MMO trading card game that follows the classic TCG game-play where players battle in duels with their hand selected decks. It was developed by Cryptozoic Entertainment and officially entered open beta in 2014, it was finally released in January 2016.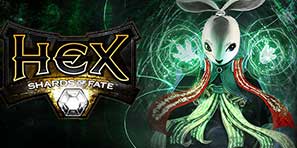 Graphics 
Social/Community 
There are four races to select from which impacts the starting deck; each race has unique cards which can modify the play-style of the deck. It features a detailed tutorial that explains every aspect of the game so that it's easy to understand even if the player is new to trading card games; for players who are familiar to this genre, it follows the standard game structure.
Players start the game with 20 health points and the game is over when one player reaches 0; at the start of the game each player draws 7 cards from their deck and the player has a champion that represents them. Each champion has a unique ability that can deal damage to the enemy or heal the player, they can also be used strategically to compliment certain deck types.
Every card in Hex shards of fate is either a Resource card or requires Resources to be activated; decks are usually composed of two Resource types and only one Resource card can be used each turn. After enough Resources are available, the player can summon Troops to the field. Hex shards of fate  features unique combat in the match, players attack each other directly however the other player can decide to block the attack with one of their Troops if they wish.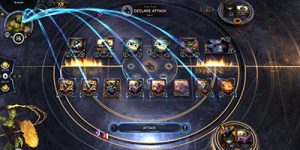 As expected from a TCG, there are also cards with special abilities that activate when placed onto the field or when their activation criteria is filled. This area is lacking as the game doesn't make it easy to see what each ability does; some abilities provide a link to a brief explanation however most abilities don't and the player needs to research this themselves.
In addition to the PvP, there is also a PvE section to the game that rewards players for completing games; the Frost Ring Arena is a tournament that places the player against various AI opponents which can have unique battle strategies. Completing matches here will reward the player with in-game currency which can be used to purchase more cards however, cards can also be purchased with cash.
Hex shards of  fate  is an interesting card game however it can feel a little harsh on new players at times; it features the classic TCG gameplay with a small combat twist that makes it feel a little more unique. Gaining more cards is expensive as a free to play player and it can take a large amount of grinding to be the basic packs. Getting further into the PvE area can be difficult without stronger cards and competing in PvP matches can be one-sided against players who purchase cards. Hex shards of fate is a strong card game but there is an obvious pay to win advantage here.