MMagerealm is a browser based MMORPG set in a fantasy world where the player must discover the truth about the destruction of the Holy City and stop the oncoming horde of demons. There are three classes to select from and a range of Angels and Heroes that can be recruited to fight with the player. Angels and Heroes can be leveled up and have unique abilities to support the player in different ways. Along with various instanced dungeons, players can form teams to defeat powerful world bosses that spawn periodically in the world and drop rare loot.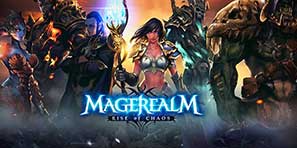 Graphics 
Social/Community 
Magerealm Features
Angels and Heroes – Collect different supporting characters and take them into battle.
Three classes – Level into the different abilities to create a range of play-styles.
Instanced dungeons – Fight through different dungeons to earn gold, experience points and loot.
World Bosses – Form a team and seek out the powerful bosses that roam the servers.
Pros
Nice graphics.
Lots of features.
Varied PvP.
Cons
Automated game-play.
Pay to win.
Generic game-play and story.