MMy Little Farmies is simulation game where the player owns and develops their own virtual farming village; players manage both the village and the farms by constructing buildings, planting crops and raising animals. The village can also be decorated with a variety of cosmetic items and more structures are unlocked as the game progresses. Players can trade their produce with each other or sell them at the market.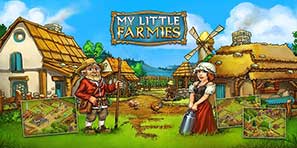 Graphics 
Social/Community 
My Little Farmies Features
Management Simulator – Grow the village and manage the farms to ensure growth
Create produce – Harvest crops and animals then create products using the materials
Trading – Trade produce and materials with other players around the world
Decorate – Have complete placement control over buildings and decorate the town to make it unique.
Pros
Lots of content.
Great graphics.
Complete control over the village.
Casual.
Cons
Limited in-game player interactions.
Tedious at times.
Pay to win elements.