NBA 2K17 Declines Demarcus Cousins Trade.
If you haven't heard the Sacramento Kings have traded NBA Allstar, DeMarcus Cousins, to the New Orleans Pelicans for Buddy Hield and a draft pick. Furthermore, many consider the trade the worst in history. To prove their claim they suggest that even NBA 2k17 doesn't approve the DeMarcus Cousins trade. 2K17 producers are trying to maximize the fun out of the user experience, meaning that the AI robots allow one sided trades to make the user happy. This example demonstrates how sometimes reality goes crazier than virtual reality.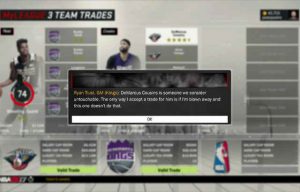 With the new NBA 2K E-Sports League coming in 2018, it will be interesting to see if 2K's AI GM's are better than real life GM's. NBA players don't have player ratings like they do in 2k17. The ratings are meant for evaluating players, in real life, player evaluation is a much more difficult task. While 2K have simplified the NBA with ratings i still don't believe that their AI robots will replace human GM's anytime shortly.
In my opinion, what makes this trade really funny is that we live in a crazy time where reality eclipses imagination. DeMarcus Cousins is the top center in 2K17 with a rating of 94. The Kings have traded Cousins for a player with only mid 70's rating and a mid-teens draft pick. I don't think that any sane person will trade his most valuable asset for a weaker one. However, 2K17 aren't calculating the personal affect of someone in the locker room. There have been speculations that Cousins had a bad influence on the locker room. Other reports have indicated that the bad atmosphere is because of the head office and that Cousins is a "good kid". Only time will tell the outcomes of the trade.
What do you think? Does 2K17 has any value in trade calculation? Are AI GM's better than real ones?