Ragewar is essentially a cross-platform strategy game created by Fury Studio that brings back the memories of Red Alert and especially Age of Empires. In this review, I am merely looking out from a non-player perspective with the experience of RTS gaming back in the day.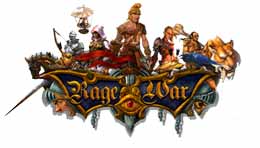 Graphics 
Social/Community 
Gameplay and what to expect.
Ragewar takes place in a Stone Ages, that's right, back when the term technology or tools were being discovered. The player's role is to build your own campsite, expand it into a town and then develop by undergoing research or foraging. By levelling up, you make use of new resources and build or create new things. Think as if you're the first to accomplish this in history. Then you can really say, "Ha, eureka" but in a more stone-aged language.
The game allows you to progress out of the Stone Ages, into the next stage, the Medieval stage and so forth. As for as I've done my research the game has yet to reach a modern or today's stage. If it does come to that stage, imagine the possibilities of getting a sci-fi scenario, much like Star Wars. But none the less, it is exciting to see society reach a new level. All of that is possible with a click of a button. Experience it, live it, be the change.
Before you reach a more humane or sympathetic stage, go raid others and claim their loot as your own. Build fortresses, tear down a few and make your enemies shiver in fear as they learn of your name.
What is cross-platform?
Not sure how to play? Do not have a computer? Don't worry. The most promising of ideas in this game is the cross-platform feature. This means that you can play Ragewar on any console or platform; be it browser, downloaded file, tablet, phones and more. The game is compatible with almost any consoles up to date with the exception of Playstation and Xbox.
If you're being attacked while in the subway? Swipe out your phone or Ipad and get on the game. Retaliate and show them no mercy. Charging your portables and streaming TV shows? No problem! Open the game on another tab of your browser and always be on high alert.
Share it and interact with friends.
Games like this are not limited to only RTS but allows you to call your friends to send aid. Ragewar links to your Google+, Twitter and Facebook, allowing you to send out messages, show off your achievements and call-to-arms! Similarly,it links to Youtube allowing you to share your guides with other new players and show off your esteemed civilization.