RRail Nation is a simulation MMO with RTS gameplay elements; the player takes control of a train station with the aim of growing the rail system to support their selected faction. This browser-based game was developed by Travian Games and sends players through several eras as they manage their train station.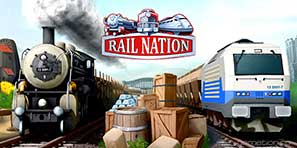 Graphics 
Social/Community 
There are two factions to select from: the Western Pacific Railroad and the Eastern Atlantic Railway. This has very little impact on the game-play however the game does assign cities in accordance to them; each map contains a large number of players but the world is balanced between the two factions to ensure an equal number of players for each side. To win a round, one team must reach the victory points criteria by growing their cities as quickly as possible; once a team has won then the game will reset and start again from the beginning.
The majority of the game is focused economic growth, trading and managing resources; players need to manage resources so that they can continue to grow their rail network however they also need to build railroads to connect to raw materials and other cities. Trading between players is extremely important to obtain the needed resources to continue expanding, the alliances in the game allows players to easily trade between themselves for points and also personal gain.
Buildings can be constructed and upgraded through the ages to improve their output; this uses a wait timer which increases over time. Train routes also work using wait timers where players must wait for the train to complete it's journey before it delivers goods or money. The game also features a technology tree which provides players with new trains or game-play features depending on the technology; this tree expands over time as the game advances through the different eras.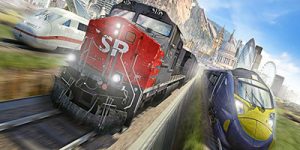 It features a huge amount of trains which each have their own strengths and weaknesses that make them better for certain jobs; these trains can be upgraded to become more efficient and more become available as the game progresses.
Rail Nation is simulation MMO with in-depth game mechanics to create an interesting tycoon game; it uses a different type of PvP where players compete for points rather than fighting on battlefields. There is a large amount of content in this game and a wide range of trains that can be managed however, the game does place a lot of emphasis on the economy instead of the trains. This is a solid MMO simulation game and it stands out in the crowd; Rail Nation is more of an economy simulation game with strong train elements than an action train simulation game.