With the nights drawing in and the chill of winter fast approaching, Sea of Thieves offers a warm welcome to pirates old and new with the arrival of Season Five. With new Seasonal rewards, Events and a whole host of quality of life updates to deepen your pirate immersion, this Season also brings in pirate pyrotechnics and a long-requested game-changing feature: burying treasure! If you're keen to dig into this and everything else Sea of Thieves has to offer, Season Five is now available as a free download for all players with Xbox Game Pass and across Xbox Series X|S, Xbox One, Windows 10 and Steam.

As with previous Seasons, Season Five and its 100 levels of rewards can be embarked upon free of charge by all Sea of Thieves players. To earn rewards, raise your Renown by sailing the seas and tackling regularly rotating Trials and Deeds. The Season Five Plunder Pass can also be purchased separately, enhancing your pool of Seasonal rewards with premium goodies not yet available anywhere else! Find out more about the workings of Seasons and the Plunder Pass in our Seasons Explained and Plunder Pass Explained articles.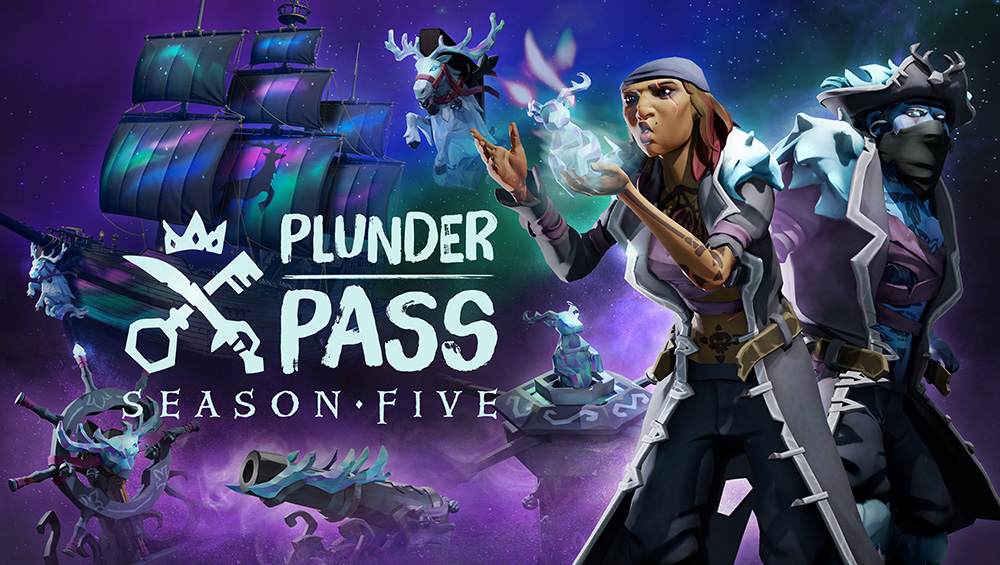 Quest for Treasure
Enough of only digging up other pirates' spoils – finally, you can bury your own! Season Five now allows you to fulfil that crucial part of any pirate fantasy, by letting you bury almost any item and create a map leading right back to it. You can do this purely for safekeeping, or post your map on the new Quest Board at the nearest Outpost and challenge other crews to seek it out.

If another crew successfully finds the location of your buried treasure, you'll earn a healthy dose of Renown. Just be careful when following other players' maps taken from the Quest Board – you can never be sure if what's been hidden away is prime loot or something not quite so desirable…
Set Things Off with a Bang
Whether you're kicking off celebrations or just sending up a flare, Season Five brings in some explosive ordinance for pyrotechnically inclined pirates! Fireworks come in a spectrum of different colors and designs, and can be found in barrels around the Sea of Thieves or bought in themed Firework Crates from the Merchant Alliance. If you've found yourself in a spot of trouble, there are also Signal Flares to help you signal to passing crews that you'd appreciate a little help.

Fireworks and Signal Flares alike can be fired from cannons, even from the prow of the Cannon Rowboat – a new mini-craft for any pirate who likes the idea of being a one-person demolition team!

These new features are accompanied by numerous quality of life updates to improve in-game immersion, whether it's sitting and sleeping, passing the time on board with new shanties and dice emotes, whispering to crewmates by turning your speaking trumpet around or watching rats scurry around your sinking ship. Plus of course there's a new crop of time-limited Events, kicking off with our annual celebration of charity, the Festival of Giving, and the traditional end-of-year bash, Grogmanay. Throw yourself into the spirit of the season to earn some festive cosmetics!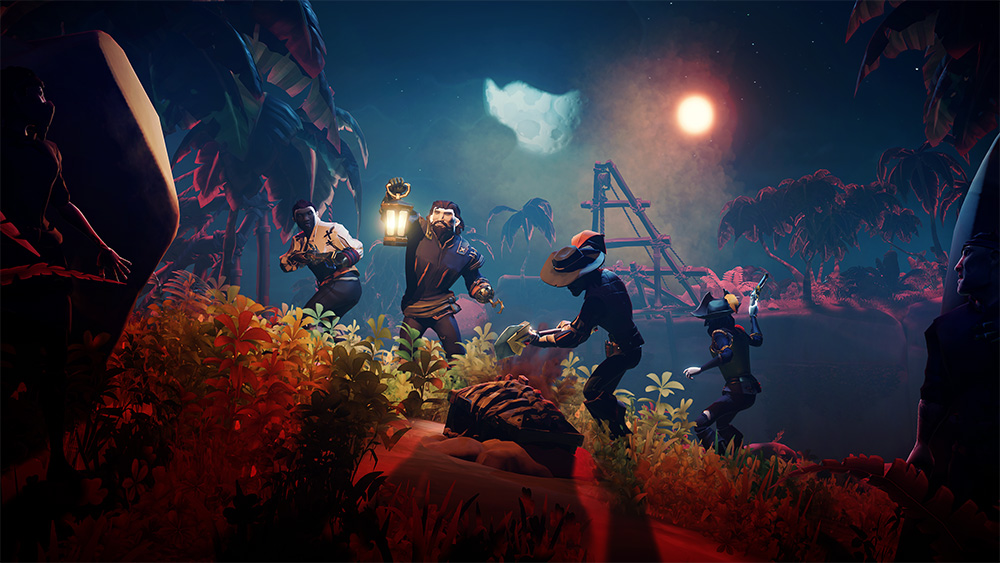 Pirate Emporium Plunder
As with previous Seasons, pirates can bolster the Seasonal rewards available with never-before-seen goodies from the Season Five Plunder Pass! Wrap up warm, as this latest Plunder Pass arrives on glacial winds – headlined by the complete Boreal Aurora ship set, which channels the dazzling aurora that streaks across the northern skies. Also included is the evolving Creeping Cold Costume, which transforms as you progress through the Season's 100 levels, and the adorable Sand Angel Emote. A special festive haul of 750 Ancient Coins is also included, which – combined with the 250 already earnable through Seasonal progression – lets you recoup the cost of the Plunder Pass if you reach a high enough level!

The Pirate Emporium's range of wares inspired by Disney's Pirates of the Caribbean also gets a boost in Season Five: the fearsome Royal Revenge ship and weapon sets, Captain Barbossa Costume and Mutinous Mutt pet all evoke tales of one of the most treacherous captains who ever sailed the seas…