Calling all Elder Scrolls Online players! The annual Witches Festival, aka the Halloween event, will begin next Thursday, October 21 at 10AM EDT, and will run until Tuesday, November 2 at 10AM EDT. During this spoopy spectacle, you can acquire unique event-specific rewards including Plunder Skulls, boosts to XP, Event Tickets, and collectibles.
It's that perfect time of the year to put on your spooky outfits and grind for everything, as there are riches to be had. So why exactly spend Halloween in ESO? Here's why!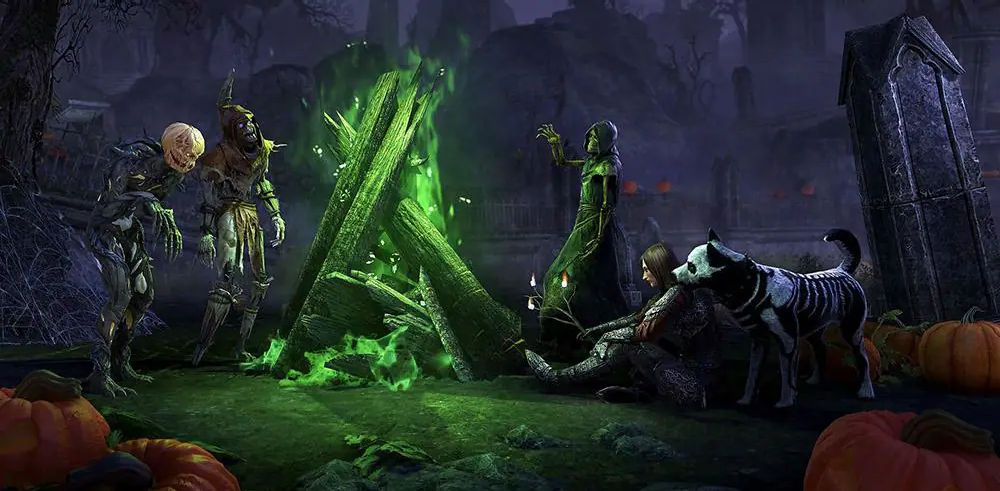 During the Witches Festival, when you defeat a boss monster, you'll receive a Plunder Skull container in addition to your regular rewards. These bloodcurdling boxes have a chance to contain some of the following items:
Fragments of the new Witch-Tamed Bear Dog pet called Bonedust Pigments

Combine 10 fragments to craft this collectible

Hollowjack style items
Dremora style items
Witches Festival-themed recipes
Witches Festival-themed furnishings and furnishing recipes
Bewitching Alchemy reagents
… and an assortment of creepy and valuable items!
Even better, the first time you slay each different type of boss, you'll receive a special Dremora Plunder Skull that can contain the above items and has a chance to also include these additional rewards, too:
Dremora Motif chapter pages
Witches Festival Writs

Complete these writs to unlock an Achievement that'll grant you the Witch hat collectible AND the "Witch" title!

Glenmoril Treasure Maps

Use the map to find Glenmoril Weapon Style pages scattered all over Tamriel

Glenmoril Armor Outfit Style pages
Grave Dancer Weapon Style pages
A new Marshmallow Toasty Treat emote Runebox
A new Bonefire memento Runebox
Don't forget, Event Tickets will also make a return during the festival, so use the period to get a brand new mount and much more. So there you have it, there's your reasons to spend this Halloween on The Elder Scrolls Online!