Another week, another Tides of War bug. Battlefield V's weekly mission progression system, Tides of War, that rewards completing objectives with new weapons and skins is getting some serious flak at the moment as countless players have reported that Tides of War week 3 missions aren't tracking. This week is all about vehicles but most players haven't been able to progress. While there isn't an official response from DICE about the tracking issues, there are some things players can do to make it work. Below are some steps that have helped players out.
Launch Conquest From Tides of War Page
If you're launching into a quick match from the Play screen, it's probably not going to track your Tides of War progress. Majority of players do this, us included, and haven't got around this Tides of War bug that's been around since week one. A large portion of the playerbase are reporting a quick fix for this. On the game's main menu, hit the Tides of War screen that brings up the progression tree. Then, simply hit the current mission you're working on which will bring up a Play button of its own, and launch the game from there.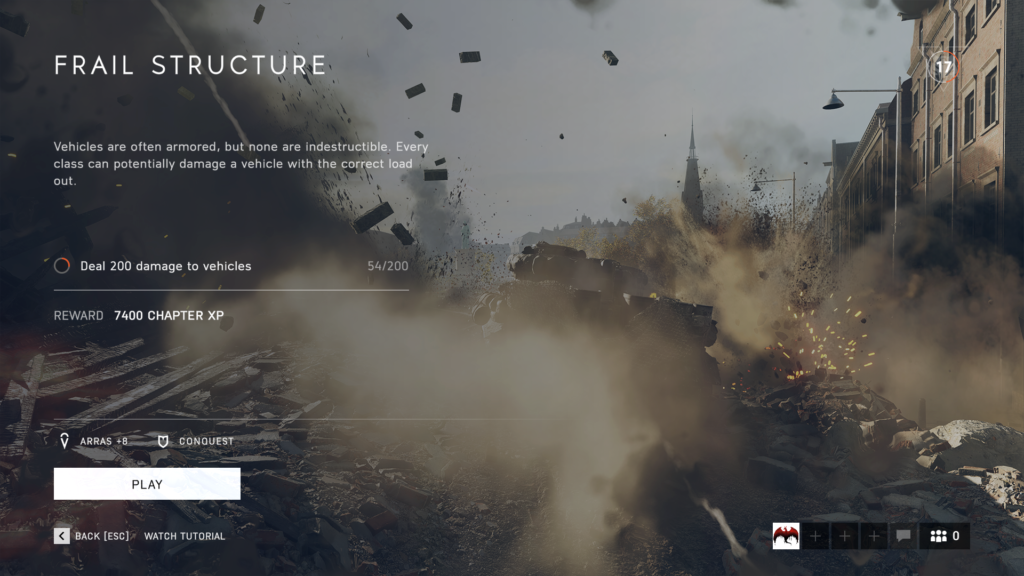 Map Hop Until You Get These Two Maps
Having done the first step above, the next objective is to get on these maps that players have reported the best success for week 3 objectives. The first is Panzerstorm, second is Hamada. Both these maps have plenty of vehicles to bust, and from there just hit and hope. In a match, simply hit Escape if you're on PC and go to server details. Here you can see the map rotations that are upcoming, but if these two maps are far away, simply quit the game and relaunch a match from the Tides of War screen again. It's tedious, that's for sure.
Ensure Tides of War Is Showing In-Match
In tandem with the steps above, another thing to note is that ensuring the match you're in has the Tides of War symbol is the easiest way to track if you're on a map that will count the progression. Simply bring up the Escape menu again, and hit Assignments. Now on the top right side of the screen, you should see the Tides of War symbol with your current mission on it. If it's there, then this match you're in should track progress. If it's not there, quit the match and again, relaunch from the ToW screen.
Reboots

Another solution players are reporting success with is completely rebooting BFV. That means sign out of Origins, log back in and do all of the above again to see if it works. For PS4 and Xbox players, try a console reset. While these are solutions from the player side, the real issue seems to be with the game's servers not tracking progress. If you're too burned out and frustrated with the Tides of War bug to give these fixes a go, there's still a way to get those cosmetics and weapons you've missed. You can buy them in the Your Company page. Week 1's VGO MMG is now available for purchase for 1400 CC, but keep in mind, buy it only if you have Company Coins to spare. These are hard to earn especially once you've hit 50.