The Elsweyr Chapter drops on 20th of May for PC players with early access, and one of the new pieces of content includes a brand new 12-man Trial. Trials are raids in The Elder Scrolls Online. This one will prove to be special of course, as it sees Dragons enter the foray in the grand manor. Here's some awesome new details about the new Sunspire Trial you'll encounter in Elsweyr.
Location: Temple of the First Cat
The Temple of the First Cat, located high above and to the southwest of Merryvale Farms in Elsweyr, is a sanctuary dedicated to the Dragon god of time. Some say that Alkosh famously shouted and defeated Pelinal Whitestrake here, and for centuries, the monks who resided in the temple peacefully kept vigil in the mountains. However, when the Dragons were unleashed upon Elsweyr, everything changed.
"When the Halls of Colossus were opened up, a golden Dragon by the name of Nahviintaas came to the Temple and proclaimed he was Alkosh himself," explains Mike Finnigan, ESO's Dungeon Lead. "The dutiful monks willingly accepted his rule, and so Nahviintaas called in two other Dragons to lord over all of the monks in Sunspire."
While many in the temple eagerly accepted Nahviintaas' claim, some saw through his lies and were enslaved for speaking out. You and your team must help Mojha and his fellow captives confront the Dragons and their followers to free Sunspire from their influence.
As you explore the ancient temple and talk to its inhabitants, you'll uncover the site's proud history and learn of its slow deterioration.
"With Sunspire, we wanted to show off the Khajiiti architecture, but also convey that this is a place of worship in decline," explains Finnigan. "The monks have been tending to this place for centuries, but gradually, over the years, some parts have fallen into disrepair."
You will see the site's overgrown and dilapidated ruins for yourself as you climb its summit and battle its defenders, and while the Temple of the First Cat's greatest days have long since passed, visually, it is still one of ESO's most stunning Trial locations.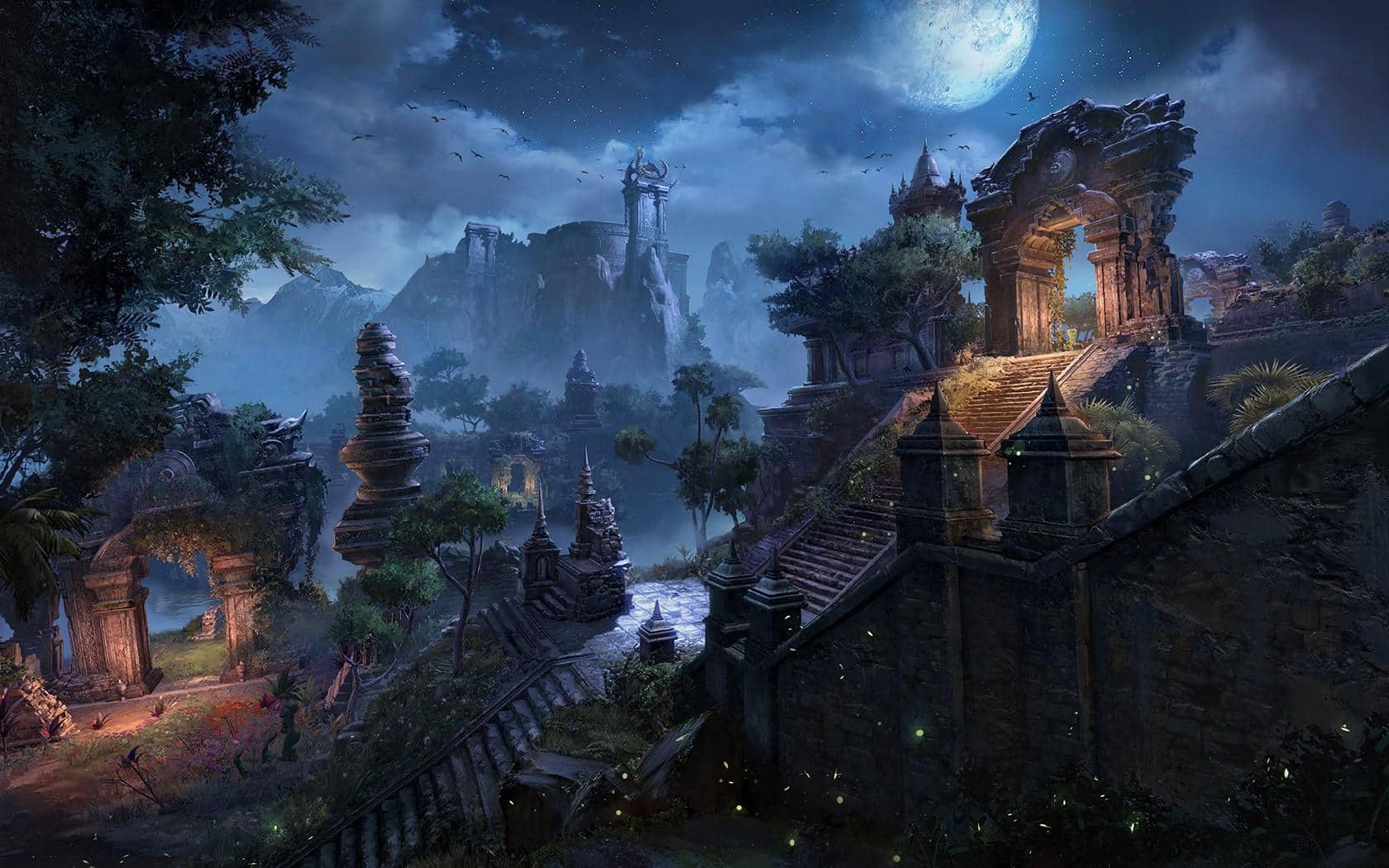 The Dragon's Followers
Before you can face Nahviintaas, you must first contend with both his fellow Dragons, named Yolnahkriin and Lokkestiiz, and their most devoted followers. These disciples include four different types of disciples, each dedicated to a particular Dragon, that wield unique abilities granted to them by their masters. In addition to them, you'll also encounter vicious Senche-raht infused with magical power, ready to pounce and knock you off your feet.
With all three bosses in this Trial being Dragons, the team was careful to make sure each battle had its own style and mechanics while staying true to what you expect from a Dragon in an Elder Scrolls game.
"In Sunspire, we really wanted to highlight what Dragons could do in each individual fight, so we focused on different aspects of Dragon combat for each encounter," explains Finnigan. "Yolnahkriin will stay grounded most of the time, not deeming you worthy of using his wings; Lokkestiiz is more lithe and will often take to the air; while Nahviintaas will use different combinations of perching, flying, and other magic to hinder you."
In addition to making each fight challenging in its own way, the team wanted to give you the option for even more difficult boss battles if you're up for the challenge.
"For this Trial, we are trying something new in that all three bosses have their own Hard Mode," says Finnigan. "Players have long requested this feature, and we are excited to roll it out. Also, to do the Hard Mode for the final boss, you must first complete the Hard Mode for the first two Dragons, so there is an extra layer of difficulty."
To truly conquer Sunspire, you must master all of its boss fights—no easy task! Thankfully, the rewards for completing this new Trial equal its challenges.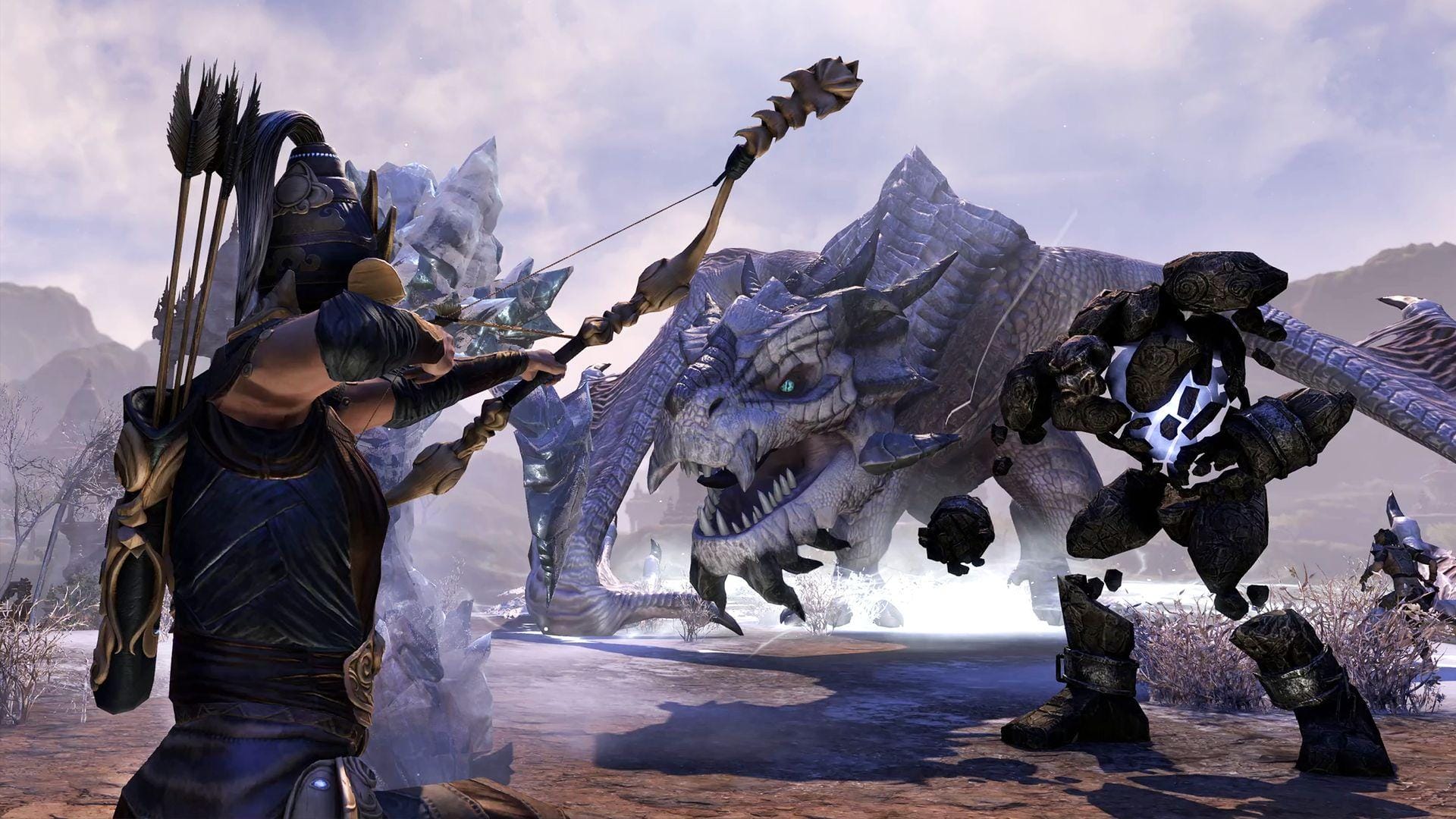 Let's Not Forget The Loot
As you fight your way past Sunspire's defenders, you'll acquire parts of four powerful new item sets not found anywhere else in ESO. This includes the False God's Devotion light set, which can greatly help sustain your attacks by reducing the cost of Magicka abilities and giving you bonus resources when you kill an enemy. Should you complete some of this Trail's Achievements, you'll also earn unique titles that are sure to turn heads in Rimmen. This includes the "Godslayer of Sunspire" Achievement (earned by defeating all three Dragons on Hard Mode without a single death and inside 30 minutes), which awards you with the commanding title of "Godslayer." In addition to the new sets and titles, you can also earn the "Sunspire Conqueror" Achievement by completing the Trial on Veteran difficulty, granting you the Sunspire Ice-Fire Skin (pictured above and below). Finally, because this Trial has new layers of difficulty, the team also wanted to provide additional rewards for those willing and able to take on Sunspire at its most challenging. Should you earn all of the Trial's Achievements, including Hard Mode and speed run Achievements, you'll receive the eye-catching Sunspire Champion Senche-Lion mount!