NNeverwinter is a MMORPG set in the popular Dungeons & Dragons universe; the game is set in the Forgotten Realms and players are sent through the realm as they quest to stop the evil undead sorceress and her army who threaten the city of Neverwinter. The game was developed by Cryptic Studios and published by Perfect World Entertainment for the PC in 2013 and later the PlayStation 4 and Xbox One.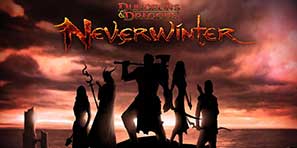 Graphics 
Social/Community 
There are 9 unique races available to all players and another 4 races which are available to those who purchase a Founder Pack; there are eight highly customizable classes to select from with different skills called Powers. Players can level up their Powers by spending skill points on their existing skills and unlike other MMORPGs, the game features a limited active Powers bar so players do need to consider their skill set carefully. It's possible to specialize the character as the game progresses and the player can reset their skills if they are willing to use premium currency.
It also features a strong character creation system where players can create their own background which can be viewed by other players. Character appearance is mostly done by selecting different pre-set appearances before adding extra details such as scars; players can even adjust the characters body in various ways using sliders.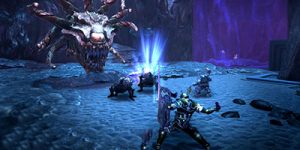 The game features story-based quests and some that are unique to the MMORPG genre such as detective style quests where the player must investigate a crime; it also includes the stereotypical quests where players need to kill a specific number of enemies. In addition to this, the Foundry allows players to create and share their own quests so that others can play them.
Combat is highly engaging where players must actively attack and dodge enemies; there is also a PvP system in the game which is contained to arena battles. The main mode in Neverwinter is Domination where two teams fight to reach 1000 points first. The PvP uses it's own special gear which encourages players to battle more to purchase them.
Neverwinter is a strong MMORPG where it places heavy emphasis on the story and PvE content which has led to the formation of a dedicated and friendly community where co-op is encouraged. The cash store has very little game-play impact which makes this a truly free to play game while also encouraging players to spend more time in the different areas of the game. While the PvP aspects are somewhat weak, this is a solid game.