OOrcs Must Die! Unchained is a third person MOBA that takes game-play elements from the Tower Defense and Collectible Card Game genre; players can battle in teams of 5 players for competitive 5v5 matches or co-op against AI enemies. Several game modes are available which are all based around five players working together. There are a large number of unique heroes to select from and a range of traps that can be placed to slow or destroy the oncoming waves of enemies; cards are used to craft new heroes, traps and minions which can be placed in games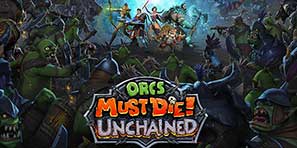 Graphics 
Social/Community 
Orcs Must Die! Unchained Features
Several game-modes – Battle alongside other players in two classic Tower Defense based game modes
PvP – Fight in competitive 5v5 battles in a MOBA game-play style match while keeping some classic Tower Defense game-play
Variety of heroes – Collect a range of unique heroes with their own abilities and play-styles.
Creative traps – Places traps anywhere along the route to slow and kill the Orcs in brutal and hilarious ways.
Pros
Unique blend of Tower Defense, MOBA and Card Game
Interesting PvP mode
Great heroes
Cons
Grinding
Heroes are rotated and need to be bought for permanent access
Imbalanced cash store.