Get ready for Halloween with the October update to Sea of Thieves! Now live for all players, Fort of the Damned encourages you to seek out this fearsome fortress and take on our most exciting Skeleton Fort challenge yet to earn huge rewards including a guaranteed Chest of Legends. Read on to find out more about this month's release!
The Fort of the Damned
Dark forces have seized Old Boot Fort, using ancient magic to bring forth an evil that transforms it into the Fort of the Damned, overrun with sinister Shadow of Fate Skeletons. Pirates must undertake Voyages to find Ritual Skulls, claim the Flames of Fate then band together to take down the Fort. Sloops, Brigantines and Galleons: it's time for ships to raise their Alliance flags, work together and answer the call!
Fort of the Damned is the biggest update to Sea of Thieves' popular Skeleton Fort feature since launch, offering players action-packed new challenges and massive rewards. The new Fort can be activated on demand as long as the in-game requirements are met, allowing players to take on this new challenge as often as they want. It's a permanent new addition to the game that will remain available beyond October's update.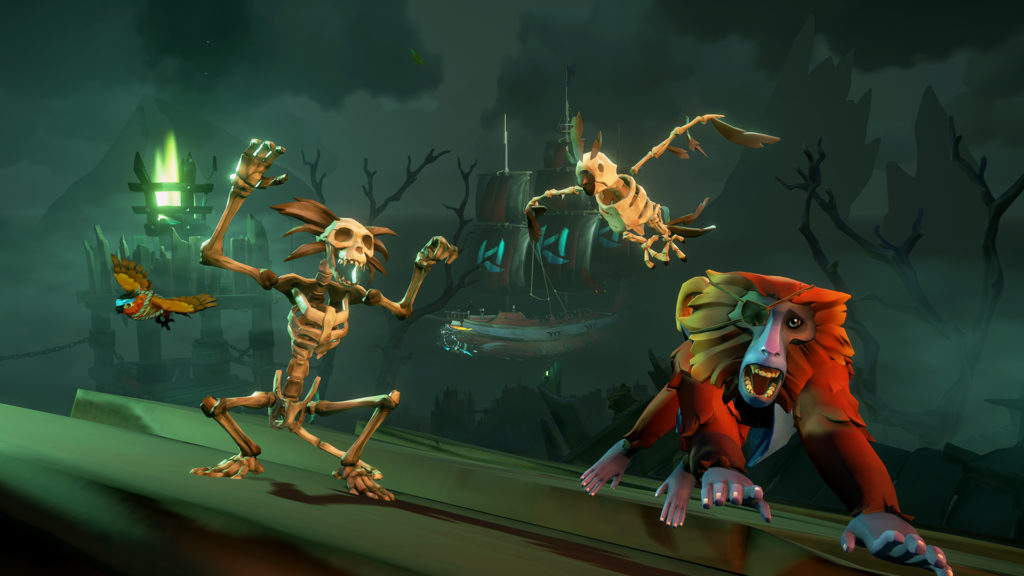 Skeleton Pets in the Pirate Emporium
The Pirate Emporium is stocking new items for the spooky season including some supernatural additions to the pet range: the Skeleton Cockatoo and Skeleton Marmoset. But hurry, skeleton pets will only be available for the duration of the Fort of the Damned update and will return to the mists once the November update is released. Grab them before they go!
While you're at the Pirate Emporium, you'll also find the Cutthroat Ship Collection inspired by Killer Instinct, Rare's legendary fighting game, together with a new collection of emotes including the indispensable Taunt Emote bundle.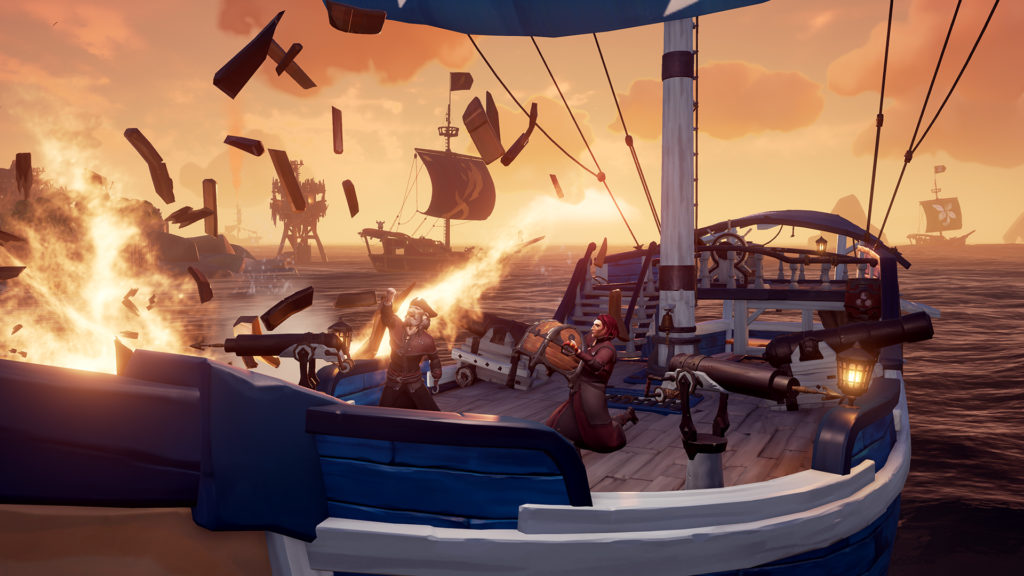 Two's Company in The Arena
Whether you seek to become a Heroic warrior, a blood-soaked murderer or the village goofball, enhanced player expression brings thousands of new voice-lines, deep character customization and a wide range of emotes expanding upon the series iconic battle cries allow for an impressive range of epic and hilarious roleplay opportunities. Whether you want to experience the intensity of Braveheart or the comedy of Monty Python, all the romance of the medieval era awaits.
New Ways to Play Shanties
Players have asked and the developers have listened: a new instrument is now yours for the playing as banjos make their way into Sea of Thieves! Open the second page of your item radial to find the banjo and pluck along to all your favourite shanties. Equipment Stores at Outposts now stock a range of fancy-looking banjos for you to grab in exchange for gold.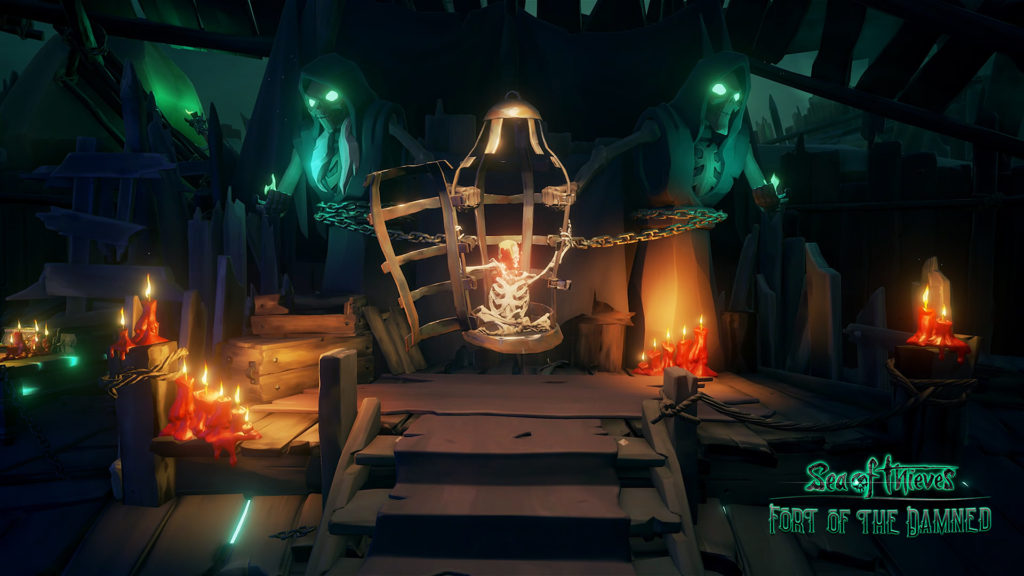 Plus a Whole Lot More
That's not all, as the Fort of the Damned update brings a host of other new features and content including:

• Cosmetics galore, such as the new Ferryman of the Damned set of rewards and new stock in Duke's Black Market including clothing from the Wild Rose, Wailing Barnacle and Redcoat Executive Admiral sets, Deep Ocean Crawler equipment and Fearless Bone Crusher weapons!

• More emergent loot including Skeleton Captains on islands (who drop a Villainous Skull and a Skeleton's Orders map), washed-up Rag and Bone Crates and increased Doubloon rewards for Reaper's Chests!

• New Commendations and brand new Xbox achievements!