WWartune is a 2D MMORPG which can played in a web browser; the game is set in a fantasy world and also contains classic MMO strategy gameplay in the form of city-building. There are three classes in the game and an Astral system that allows the creation of unique playstyles; combat is turn-based and the player can control a small party to fight with. The game also features a large number of boss battles where hundreds of players can join together; there are single and multiplayer dungeons to complete and PvP options.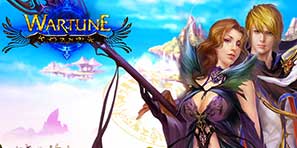 Graphics 
Social/Community 
Wartune Features
Blends RPG with strategy – Care for a city while also adventuring through the world and engaging in classic MMORPG content
Astral System – Customize character further by creating special bonuses
City building – Manage a city to grow its strength then recruit troops to take into battle
Varied dungeons – Fight through dungeons alone or work with a group to earn rare loot
Pros
Unique gameplay twist
Nice graphics
Varied content
Cons
Weak PvP content
Pay to win elements
Dull gameplay.