Elder Scrolls Online players, here's what you need to now about the Summerfall event!
Community-Wide Event
For players that own the Summerset Chapter for ESO, a new community-wide event is now available in game. Players must work together to achieve the Summerset Pathfinder achievement to unlock more rewards.
When and What?
From Thursday, September 20 at 11:00AM EDT until Friday, September 28 at 10:00AM EDT, work together with your fellow ESO: Summerset players to explore the island and earn up to three free unique collectibles, including the Psijic Mascot Pony pet, the Psijic Escort Charger mount, and the impressive Grand Psijic Villa house.
The Rewards
To help unlock these new rewards, you must acquire the Summerset Pathfinder Achievement by visiting all 10 of ESO: Summerset's "Striking Locales" located on both the home of the High Elves and the mystical island headquarters of the Psijic Order. Every day, we'll update the Summerfall Event page to indicate the ESO community's progress with a special meter. The pet will unlock at 33%, the mount at 66%, and finally the home at 100%. If you've already earned this Achievement, don't worry, we've already included you in the tally.
You can track your Summerset Pathfinder Achievement progress and get tips on the locations from the Summerset section of your Achievement menu, but if you're having trouble finding your way around, you can also find a helpful map below: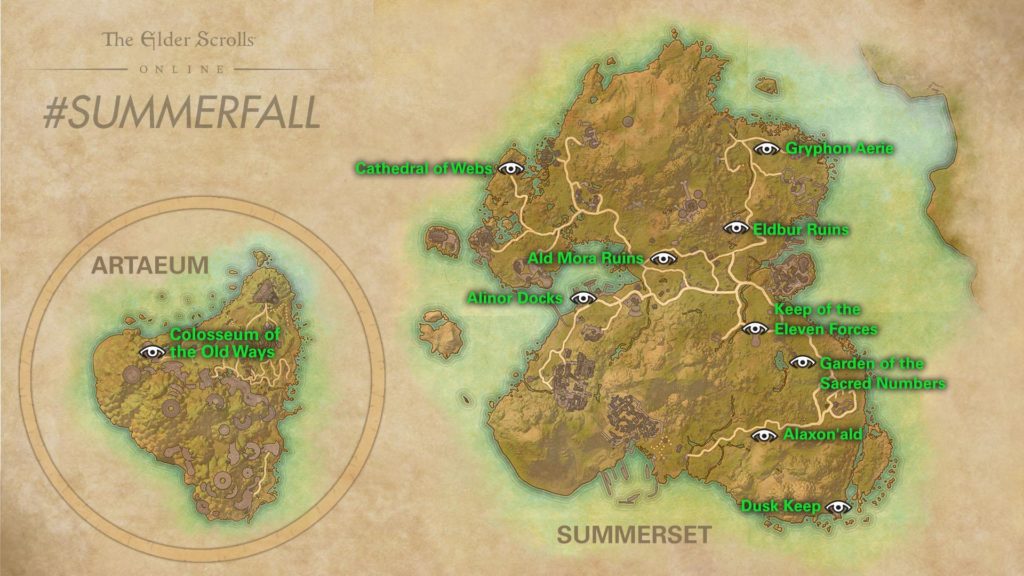 Eligibility
In order to be eligible to receive the rewards, you must have logged into the game while owning ESO: Summerset at least once (since its initial launch in June) by Sunday, October 7 at 8:00PM EDT. Note that rewards will be delivered by October 10, and even if you were unable to acquire the Summerset Pathfinder Achievement, as long as you have logged into the game while owning ESO: Summerset by October 7, you will receive the unlocked rewards for free. Don't forget to thank your fellow players!
It's Also On Sale
If you're thinking about picking up ESO: Summerset, there's never been a better time to experience The Elder Scrolls Online's newest Chapter AND pick up some unique rewards in the process. Starting today, you can acquire The Elder Scrolls Online: Summerset on sale for up to 40% off (including Standard Edition, Upgrades, and Digital Collector's Edition), and up to 50% percent off for The Elder Scrolls Online: Standard Edition (note that this product does not include the Summerset Chapter) and The Elder Scrolls Online Collection.
You can buy ESO: Summerset, including Standard, Upgrades, and Collector's Editions on sale here.
The sale dates are as follows:
September 18 – October 2
ESO: Summerset Digital Upgrade
ESO: Summerset Digital Collector's Edition Upgrade
September 25 – October 2
ESO: Summerset Standard Edition
ESO: Summerset Digital Collector's Edition
The Elder Scrolls Online Collection