IIkariam is a MMORTS game which is slightly different to traditional RTS games; it was developed and published by GameFoge in 2008. There are also mobile versions of the game available to allow people to play the game in the web browser or on a mobile device.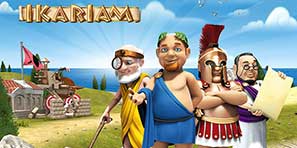 Graphics 
Social/Community 
The land in the game is based around islands where every city is built on an island, a player can have a maximum of 12 cities at once. Cities in the game are built using the standard RTS game-play seen in other games of this genre; the play need to manage their resources and construct buildings to progress through the game.
Resources in the game can be collected automatically from certain buildings that need to be constructed. They can also be gained by successfully attacking other player cities; combat in the game is as expected from a RTS game where the player has no control over the fight itself. While attacking other players is an option, trading between islands works well due to every island have unique luxury resources and having a variety of these for an empire encourages much faster growth.
Every island being unique encourages social interaction between players for trade and to form alliances as a result; this is different to most other games in the RTS genre as it places a greater emphasis on player co-operation. Alliances in the game can be cross-island and spread across the world or they can be focused to a specific group of islands. While a peaceful existence is encouraged by the need for trade, there is still PvP where players can form large armies to invade the towns of other players.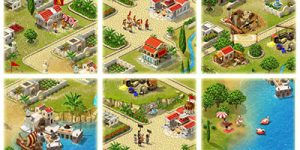 As expected from a RTS game, every action uses a wait timer which slowly increases in length as the game progresses. These timers can force players to wait long periods of time however there is a cash store where it's possible to avoid the wait timers and gain some other useful things for the city. This genre of game typically contains some pay-to-win elements and Ikariam certain follows this.
Ikariam brings some new elements to the genre which is something RTS desperately needs, as a result this game stands out from the others. The game is highly social where players are forced to communicate if they want their empire to continue to grow.
All
Real Time Strategy
Trading Card Games