IImperia Online is a browser based MMORTS game where the player controls a medieval city and must grow it into an empire; it follows the traditional RTS gameplay where the player starts with a small province with only a few buildings already there. Unlike other games in this genre, it offers many social opportunities for players.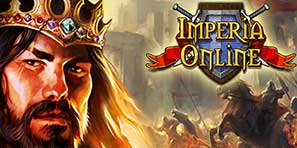 Graphics 
Social/Community 
Players are able to communicate through various chats and also send private messages to each other; as expected, there are also alliances to join where players can support each other by sending resources or units and players can also join forces to attack enemy players.
There is some strategy to the combat where different units have an advantage over other units; attacking a players empire is done in three stages. The first stage is the Field Battle where the winner is granted Honor points before the army moves to the Fortress Siege where the attacking player must break through the final defenses of the province border. When the siege has been won, the attacking player can Pillage the enemy province and take gold for every village destroyed. This style of combat gives the player more strategic options without physically controlling the battle.
The game is focused on managing and growing the city to strengthen them so they can withstand attack; like with other RTS games, actions are completed in real time and resources are gathered automatically from certain buildings. It features a population system that limits how many units a player can recruit, the limit can be increased by upgrading specific buildings. Once constructed a building can also be moved to any free space; providing the player with the ability to customize and be more strategic with their buildings.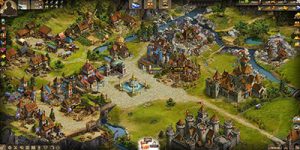 Noblemen act as this games 'heroes' and can level up in two skill lines to either boost the resource and unit production or to make the army stronger by improving its combat capability. These Great People are born and will die after a time has passed, each one has their own unique skills and bonuses.
There is a cash store open to the player which provides a quick way to grow the city by avoiding wait timers, buying resources or buildings; the store does offer an advantage over free-to-play players as a result.
Imperia Online offers some interesting game-play which is different to most standard MMORTS games while also keeping the traditional RTS game-play. The ability to move constructed buildings is very useful later in the game and allows for more strategic game-play. Unfortunately it does follow the pay-to-win nature of this game genre.