MMy Free Zoo is a Tycoon Management game about being the director of a zoo; the player takes control of a failing zoo and must expand it so that it can become one of the most popular zoo's in the world. Full control over the park is given to the player and a wide variety of buildings need to be constructed to progress through the game or attract visitors. Animals in the game have unique popularity ratings which attracts specific types of visitors; the animals in the park must also be cared by staff and can be bred.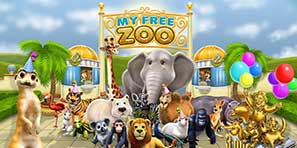 Graphics 
Social/Community 
My Free Zoo Features
Zoo management – Manage the different aspects of the zoo such as construction, staff and the animals.
Breed animals – Start a breeding program and get baby animals to attract more visitors with.
Almost 200 achievements – Try to complete a huge list of achievements and gain special rewards.
Tycoon gameplay – Generate big profits from admission fees and from sales to expand the zoo.
Pros
Variety of animals.
Lots of achievements.
Nice graphics.
Casual.
Cons
Some animals can only be unlocked with real money.
Pay to win elements.
Animal orientated gameplay.