RRift is a traditional fantasy MMORPG set in the world of Telara; there are four classes in the game and ten skill trees to level into allowing for high customization. Character customization is detailed with various options for different aspects. Combat is interactive and players can engage in large PvE battles when Rifts randomly open in the world. In addition to the open world PvE, players can fight in open world PvP and in objective based game-modes.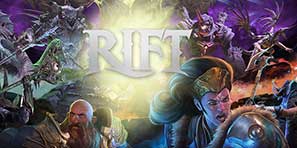 Graphics 
Social/Community 
Rift Features
Detailed Character Customization – Design a character that looks unique with various options.
Large-scale PvE – Fight beside other players to defeat Rift invasions for experience points and rewards.
Ascended Soul class system – 'Create a class' by combing different skills from a range of class skill trees.
Open World PvP – Fight other players in the massive open world or fight in objective based game-modes called War-front.
Pros
Can have up to 4 class builds for free.
The Ascended Soul class system.
Large-scale PvE for Rift invasions.
Cash shop is balanced.
Cons
PvP is not well balanced.
Generic game-play.
Few races available.
Late game is orientated towards specific builds.