The latest monthly update to Sea of Thieves has arrived and of course, it's completely free for players. Available starting today, the Sumuggler's Fortune update brings players a host of fresh content including new Voyages to complete and loot to claim, unique pirate and ship cosmetics and adorable animal sidekicks. But what else is new? Read on and find out.
Pirate Emporium
A prominent feature of this new update is the Pirate Emporium, a premium store that can be accessed from the home screen or from any Outpost in the game. Stocking all sorts of must-have pirate accessories, the Pirate Emporium also introduces a range of utterly charming pet monkeys and parrots to the Sea of Thieves.
Brand New Adventures
Starting with Smuggler's Fortune, the Bilge Rats' Mercenary Voyages will not only be free to accept but will allow you to actually earn Doubloons. This month's Rag and Bone Voyages offer a special twist on Cargo Runs, setting crews on course for Shipwreck Bay to locate hidden crates which need delivering to various Seaposts. But beware: time is of the essence to get these to their destinations, and yours won't be the only crew heeding the call.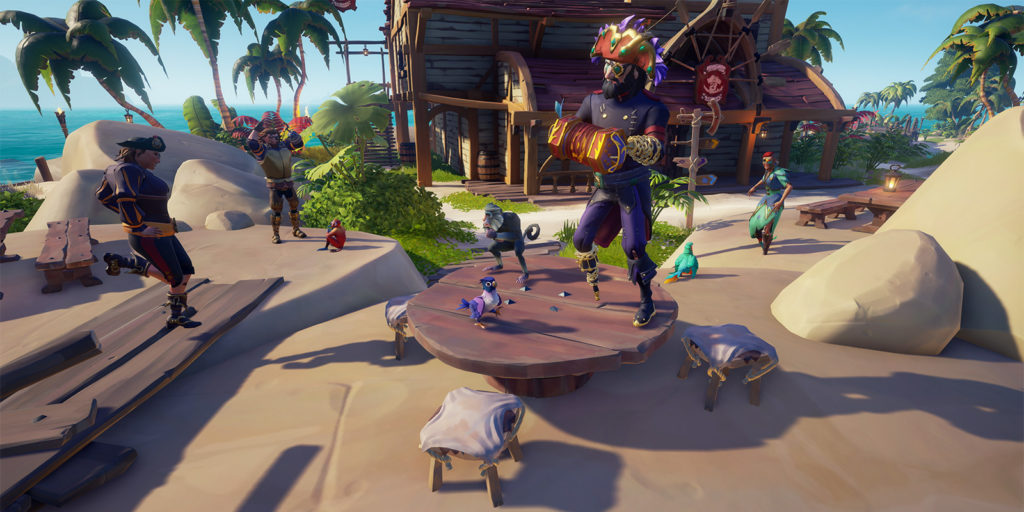 Fresh Cosmetics
Get the pirate look you've always wanted with the introduction of the Pirate Emporium and Black Market. The Pirate Emporium is a new premium store where pirates can acquire exclusive cosmetic items, emotes and pets using a new currency, Ancient Coins (purchasable through the Xbox store or directly in-game). Treat yourself to a loyal sidekick in the form of a pet parrot or monkey. Express yourself through a range of new emotes. Or show off your ship with unique liveries, beginning with the Bear & Bird livery set, inspired by Rare's beloved Banjo-Kazooie series.
Elsewhere, spend your hard-earned Doubloons on special cosmetics newly smuggled into Duke's Black Market, including variants of sets that were previously time-limited. This month gives players a chance to grab the Fearless Bone Crusher items, sure to appeal to anyone who missed the original set last year. If gold is all you have, Duke will accept that for some of his other ever-changing wares, starting this month with Deep Ocean Crawler weapons.
All New Loot and Riches
There's more loot at large on the seas than ever before. Increase your pirate fortune by taking down Ancient Skeletons, rare new enemies who carry Ancient Coins that can be spent in the Pirate Emporium. You can also send roaming Skeleton Sloops back to the depths and lay claim to their hoards of treasure. So following hot on the heels of loot being added to Barrels of Plenty and the emergence of the Reaper's Chest, there are more riches than ever just waiting to be found… or stolen! The Pirate Emporium and Black Market are both permanent additions to the game, while Rag and Bone Voyages are temporary and will be replaced by new activities when Sea of Thieves' next update arrives in October.
For more information about the new update, check out the official website post here.