March of Empires is probably one of the most complicated, strategic and loved empire building and realm conquering games currently. MoE is much more than just an RTS, it is about a matter of trust and skill.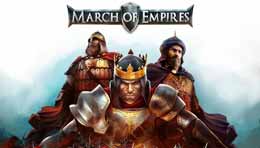 Graphics 
Social/Community 
Choose wisely and take advantage of your surroundings.
The game takes place in realms or one huge continent consisting of different places with its own unique features. You may belong to the tropical side, the desert area and even the cold harsh wintery lands. Certain parts of the continents undergo weather changes or seasonal changes prompting different perks or change in abilities. That is pretty realistic if you ask me! Thus, giving each player and their empire a fighting chance to obtain whatever resource they need to fend for themselves or conquer the neighbouring kingdoms.
Join Alliances, top the ranks and rule them all.
The whole idea of an MMO is to interact. In March of Empires, this feature is highly emphasized in order to bring out the fullest potential of the game. Alliances are essentially a guild or a cluster of kingdoms coming together and working their way up the ranks. They protect one another, send resources and ensure peace within their areas. Alliances may bargain and call truce between one another, or wage wars that may last days or even weeks. However, it is best to avoid confrontation as other alliances may be waiting for a chance to ambush the already weary victor. Each alliance have ranks amongst themselves and are able to interact through a forum-like page to discuss daily matters, trades and protection.
Combat, know your way around it.
Aside from that, combat is also important. Units are not categorized simply, by the sheer amount of damage they dish out but their strengths and weaknesses. It requires a lot of research and analysis as to how your opponent would strike and when is the right time. They have a variety of units from infantries, cavalries to sieges. Not all are instantly available as research is required and it may take a large amount of time.
Always have the upper hand and a bargaining chip.
Fret not, as the research can be boosted by in-game payment, building more facilities that boosts it or getting more resources from your alliance members. Your cities also expand alongside your level allowing you to build more facilities and grow your kingdom. Know that you are not limited to one location, as you may choose to pillage, destroy or conquer other kingdoms. Just make sure you do not challenge an enemy you cannot win. Remember that your alliance will only help if they have something to fight for. Make an argument or trade that they cannot resist.
Summary
As someone who loved the retired game, Lord of Ultima with similar concept to this game but lasts almost a year, I sure as heck would like to get back into RTS gaming and conquering lands with my kin. Join me on my conquest?
All
Real Time Strategy
Trading Card Games